2-Click Help
Help is never more than two clicks away in your NCVPS course. When you are logged into your course, click on the "Home" button to find your teacher contact information and links to the Peer Tutoring Center and Virtual Support Center.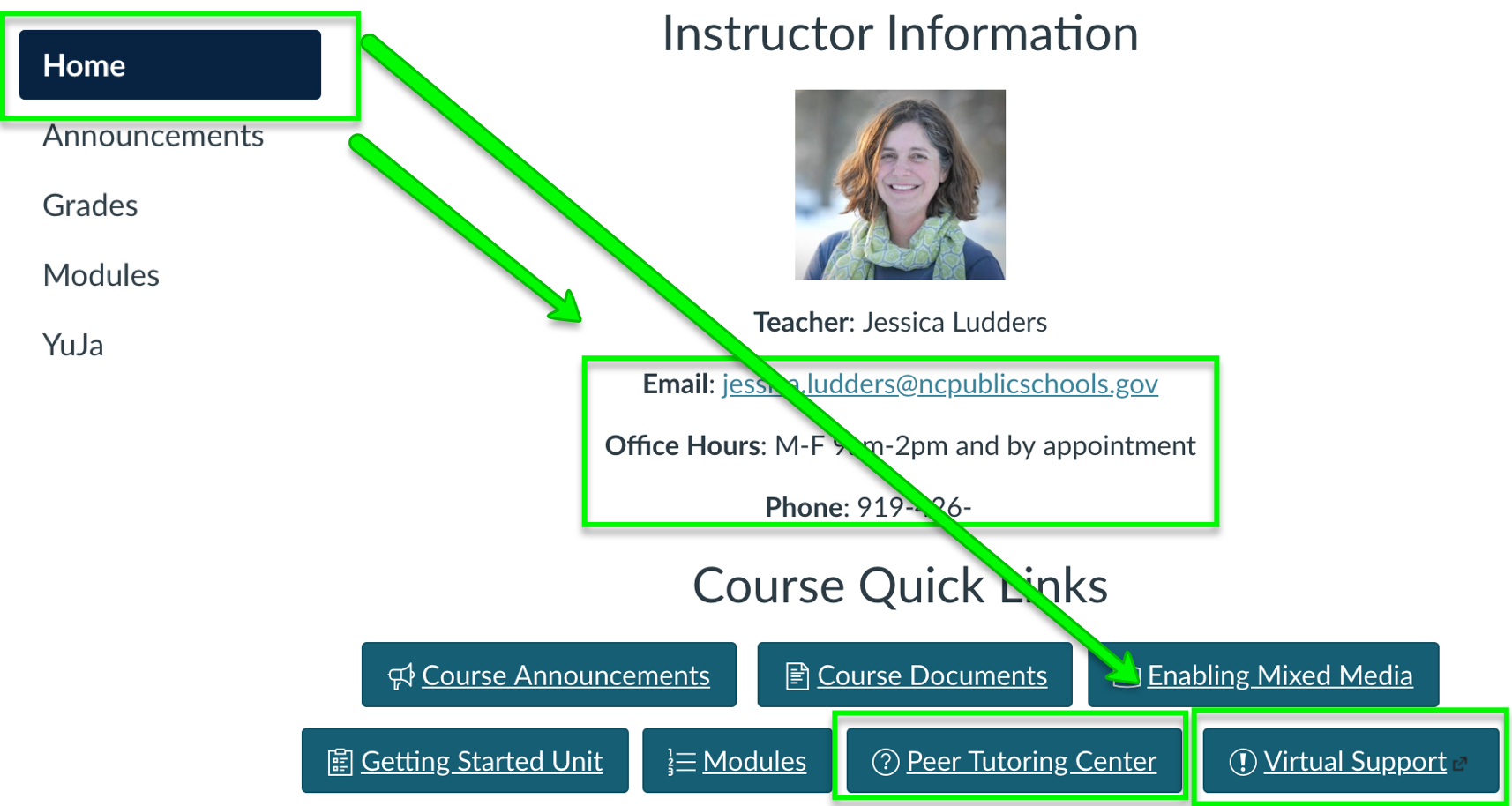 Getting Started as an NCVPS Student
We also have help for you before you even get started in your course. If you are a new NCVPS student, check out Getting Started as an NCVPS Student page. The page will prepare you for your course and guide you through the first day of class.
Printable Guides
We have three printable guides for students. These are great to have alongside you as you begin your course. Visit our Printable Guides page to print our Getting Started Checklist for NCVPS Students, NCVPS Student Start-Up Guide, and our NCVPS Student Success Guide.
NCVPS Virtual Support Center
Students should open a Virtual Support Center (also called the "help desk") ticket if they have any of the following questions or problems: general questions about NCVPS, username or password doesn't work, they are unable to submit an assignment, something doesn't work in their courses. The Support Center also helps e-learning advisors, school and district staff personnel, NCVPS teachers, and parents. The Support Center also serves NCVPS students and teachers, school-based facilitators and e-learning advisors (ELAs). Watch our Support Center video for an overview.
To open a ticket with our support center, follow these steps:
Step 1: Visit the Virtual Support Center page. You will also find the link on the home page of your NCVPS course.
Step 2: Click "Open a New Ticket."
Step 3: Choose your role (student).
Step 4: In the ticket, include your name, PowerSchool number, your email, and the course and teacher that you need help with. If you're an ELA opening a ticket for a student, be sure to include all that same information in your ticket.
Step 5: The response from the Support Center will go to your email address.  Sometimes the responses end up in your spam folder, so be sure to check there if you don't see an email confirmation immediately after you submit your ticket.
Online tickets will be addressed throughout the instructional day. We will handle these in the order they are opened.
NCVPS Instructors
Instructors help you with all instruction and grade questions. Contact information for teachers can be found on the home page of your course. The instructor can help with the following:
Answer course content questions
Reset tests and quizzes
Fix links that are not working
Answer basic questions about Canvas
E-Learning Advisor
Each school has an e-learning advisor (ELA). ELAs help students with registering, dropping or withdrawing, and other school-based issues and questions.
Peer Tutoring Center
Peer tutors can help students in numerous areas. Students can access the tutoring center from the home page of their course. Follow this link for full details on the peer tutoring program. The Peer Tutoring Center offers the following services:
Quick Question services are available to all NCVPS students. The purpose of this service is to quickly provide assistance to students as they begin to navigate Canvas and their courses.
Virtual Buddies help students with time management, organization, study skills, motivation, and encouragement.
Peer Tutoring helps students with specific needs within their courses. They can help explain the content in a course.
The Writing Center provides detailed feedback and encouragement in the writing process.
The English Language Learner Center works with EL students one on one to assist them in achieving success in all of their courses.
Tech Support helps students with the basic technology in an NCVPS Canvas course. Unsure how to submit an assignment, Tech Support will help!
College Readiness Services includes resources for Study Tips, Standardized Testing, Class Help, Extracurricular Activities, and the NCVPS Cafe. It also houses an interactive discussion forum for students to ask questions about topics like Applying for College, Preparing for Exams, Scholarships, Internship Opportunities, and Extracurricular Activities.
You can access the Peer Tutoring Center from the home page of your course. See the image above.