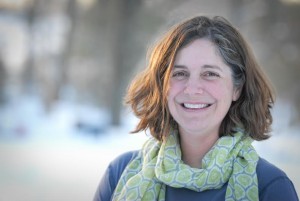 Jessica Ludders has been named the 2015 North Carolina Virtual Public School Teacher of the Year. NCVPS is proud of her excellence in teaching as well as the leadership she has exhibited during her tenure with NCVPS. Please join us in congratulating her.
Each year NCVPS selects one teacher from a group of finalists to represent the school as its Teacher of the Year. All the finalists exemplified to the highest degree their commitment to student success, knowledge and skills as professional educators, and dedication to the NCVPS online program.
Jessica Ludders graduated from University of Southern Maine with a bachelor of arts in English. She earned her master's degree in English from Middlebury College and is currently working on her master's in instructional technology and school leadership at the University of Maine. Ludders taught one year at Kennett High School in Conway, New Hampshire; two years at The New School in Kennebunk, Maine; and four years at PACE Academy in Carrboro, North Carolina. She taught ten years for Alamance Community College and has taught the past four years online with the University of Maine Augusta. She has taught eight years with NCVPS, where she currently teaches English 2 Honors and journalism.
In addition to her teaching duties with NCVPS, Ludders has taken on numerous leadership and support roles. She is the instructional lead in the Teachers in Training program and is the team lead for course revisions. She is also the course lead for English 2.
Ludders credits NCVPS for expanding her core teaching values. "At the root of each of my daily goals, is a focus on positive, encouraging communication. It impacts how I build relationships with students and stakeholders, which ultimately impacts each student's level of success in the course. I now understand how every interaction I have with students, be it a course announcement, assignment feedback, or a conversation, is an opportunity to build and solidify that relationship as well as expand their knowledge."
Ludders' commitment to students has greatly impressed the NCVPS staff. "If we could look inside Jessica's heart, we would see her love for student learning and success," said Michelle Lourcey, NCVPS Chief Academic Officer. "Jessica takes each student and works with each one to meet her where she is in her learning and do whatever it takes to lead the student to growth. Jessica pours herself into each of her students."
As the English 2 course lead, Jessica has had the opportunity to hone her leadership skills by modeling her student interactions with her fellow teachers. "NCVPS leads its teachers towards excellence," Ludders said. She admits that teaching online and maintaining NCVPS high teacher expectations is not easy, and it is rewarding helping her English 2 teachers. "I am so fortunate to have the opportunity to guide teachers through the process of becoming world class teachers."
Having a global vision of the future is important for a Teacher of the Year candidate. Ludders credits NCVPS with helping her dream big, and she's eager to pass on that passion to her students. "I want to show them that the world is there to be explored, questioned, understood, and appreciated. I want to give them the skills they need to take on any task they choose. I love to create and facilitate engaging classes with meaningful student and stakeholder relationships. I have amazing opportunities to create meaningful experiences for others, and I do not take this responsibility lightly."
Ludders credits her diverse teaching experience as having a tremendous impact on her both personally and professionally. Her first classroom had a view of Mt. Washington in New Hampshire. Next she taught at an exploratory private school where students designed their own classes, and in North Carolina, she taught at a charter school that focused on Exceptional Children. Those experiences have served her greatly in her online classrooms. "All of my students are treated as people first: teens on the brink of adulthood who need clear expectations, firm guidelines, open ears, and a tender heart. Once the relationship is established and they trust it, moving them successfully through a course is generally a breeze. Students want to succeed and they will do anything you ask of them if you give them achievable goals and you help them when times get tough."
Ludders, naturally, is a great advocate for online learning. "NCVPS is a world class organization staffed by educators and administrators who know the value of creating unique, meaningful, engaging learning experiences for students. Beyond that, NCVPS is committed to growing teachers who believe that building relationships with students is the foundation of any positive learning experience."
"The older I get, the more time I want," Ludders said. "I would encourage my former students to enjoy and trust the process of life and all it entails. Opening their minds to all new learning experiences is a gift to cherish because with that knowledge comes opportunity, adventure, and growth."
Ludders and her family have relocated to Maine, where they are living a sustainable lifestyle on a small piece of land. She and her husband, Ross, and two young sons, Baxter and Grady, are working towards growing and raising all of their own food. "Having children of my own has opened my teacher heart in a way I could not see before. It's allowed me to remember that behind each child there's a family with hopes and dreams for what that child will grow to accomplish. It's my goal to make both the student and the family welcome in the class. We are all on the same journey with our destination being the student's success."
Ludders will now advance to the National Online Teacher of the Year competition where she will represent NCVPS. This was the seventh year for the NCVPS Teacher of the Year award. NCVPS would like to congratulate all of the teachers who were nominated by their peers for the award: Darlene Schaefer (English), Cara Ward (OCS History), Douglas Lloyd (Art), Karen Mach (Credit Recovery English), and Lydia Richmond (Credit Recovery English). The NCVPS staff was incredibly impressed with all six nominees' presentations, and the staff is proud and grateful to have them as teachers in the NCVPS family.
The NCVPS selection process for the Teacher of the Year program is divided into four phases beginning with the call for nominations. From there, nominees participate in a blind selection process that starts with answering a series of initial questions on instructional philosophy and student-centered instruction. The selection committee then narrows the field to six finalists who complete a portfolio of responses and showcase examples of their work that demonstrate their approach to teaching and their beliefs about instruction. The six finalists are then interviewed by the committee before the final selection is made.
NC Virtual Public School is the nation's second largest state-led virtual school with over 52,000 enrollments from all 115 school districts and many charter schools. NCVPS offers over 150 different courses as a supplement to the local high school course catalogue and includes Advanced Placement, Occupational Course of Study, electives, traditional, honors and credit recovery courses. All courses are taught by teachers certified in North Carolina and provide strategies for active student engagement through a variety of technology tools. Teachers are required to make personal contact with students and parents regularly in order to maximize the student-teacher relationship. Courses are free to students who enroll through their local NC high school. NCVPS is available to home school and private school students for a small fee. By virtue of online course delivery, students now have access to rigorous courses and high quality teachers regardless of zip code.