NCVPS enrollment for the 2015-2016 school year is going strong! Compare our numbers to last year at this time: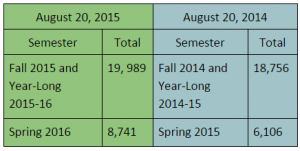 We ended up with a record enrollment last year of 55,000+ students for summer, fall, and spring. We expect to have an even higher enrollment this year!
Naturally, we would like to thank the districts and schools in North Carolina for their tremendous participation. In addition to our traditional enrollments from schools, we have seen some great blended-learning, personalized-learning, and online academies that use NCVPS courses in a growing number of North Carolina school districts. That's outstanding, and we love that type of thinking!  
Registration for Fall 2015 is still open. Classes start on August 24, and fall registration will remain open until Sept. 4. Our Spring 2016 registration will remain open until Feb. 1, 2016.
Learn more about NCVPS at this link.