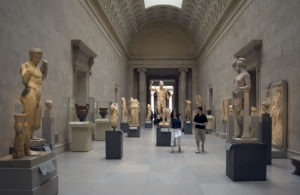 NCVPS is pleased to announce that it is offering a new Advanced Placement course: AP Art History!
Advanced Placement Art History is a year-long course that requires a 90-minute daily class amount of time. Also, students need to spend time working at home a minimum of 30 minutes daily on the textbook readings, class discussions, assignments, and tests. Art is the reflection of the time, place, and people that produced it. The AP Art History course is designed to provide the same benefits to you as high school students that are provided by an introductory college art history course—those being an understanding and enjoyment of architecture, sculpture, and other art forms within their historical and cultural context. During the course we will examine major forms of artistic expression from the past and the present from a variety of cultures. Students will learn to look at works of art critically, with intelligence and sensitivity, and to analyze what you see. All students successfully completing the AP Art History course should gain an in-depth knowledge of the subject, as well as form disciplined study habits that can contribute to continued success at the college level. The course requires a high degree of commitment to academic work and to the purposes of a program designed to meet the college standards. For the latest information and services available go to http://www.collegeboard.org/AP
Prerequisites: No prior experience in art history is required. Students should be strong in academic courses. Strong studio art skills are not necessarily a predictor of success in this course. In general juniors and seniors in high school are best suited in terms of breadth of education—history, language arts and foreign language depth and success is a good predictor. In order to be successful in AP Art History, students will need general computer knowledge and Internet access.