NCVPS teachers have a lot of great tips to share with online students and the support crews who facilitate their learning. "They know a thing or two because they've seen a thing or two."
Save Your Work – A Good Backup Plan
Saving your work is an important step in protecting hours of hard work and the effort you've made in your NCVPS course. You may not think you will need the work later, but this type of planning is a key trait of a successful online learner. Guarding and safely storing your data is also a key part of being a responsible internet user.
There are three main reasons to back up and store your work:
You have a computer mishap. Your computer freezes or crashes, there's a power outage, the hard drive fails, a virus infects your computer.
Your instructor cannot access the document that you submitted because you used a software program that NCVPS does not use or because the file was corrupted. If you saved the document, you can open it, and copy and paste the contents into a program compatible with NCVPS, such as Word, Google docs, PowerPoint, or OpenOffice, and then submit that to your instructor.
Your document gets lost in cyberspace. Sometimes documents fail to load when you submit them. You may have lost internet connection without realizing it. Or you may have incorrectly labeled your document, and your teacher can't identify it. Now you can quickly resubmit.
Useful Tips
Students should work with schools to develop a backup strategy. The school may have backup solutions like storage space or Google Drive.
If you are working on any project of length, work in a program that lets you periodically save your work.
If you are writing an essay for a quiz or test in Canvas, consider composing the essay first in a word processing program like Word or Google docs. It's easier to edit in a word processing program than it is in a Canvas quiz or test textbox.
You should save your work to a storage area that you can access at a later time.
Cloud Storage
When you save something "in the cloud," you are saving to a place on the internet that you can usually access from anywhere. When you save to the cloud, you never have to worry about losing a thumb drive or memory stick.
Here are several cloud options to save your work:
Canvas – You can store documents directly in your Canvas course.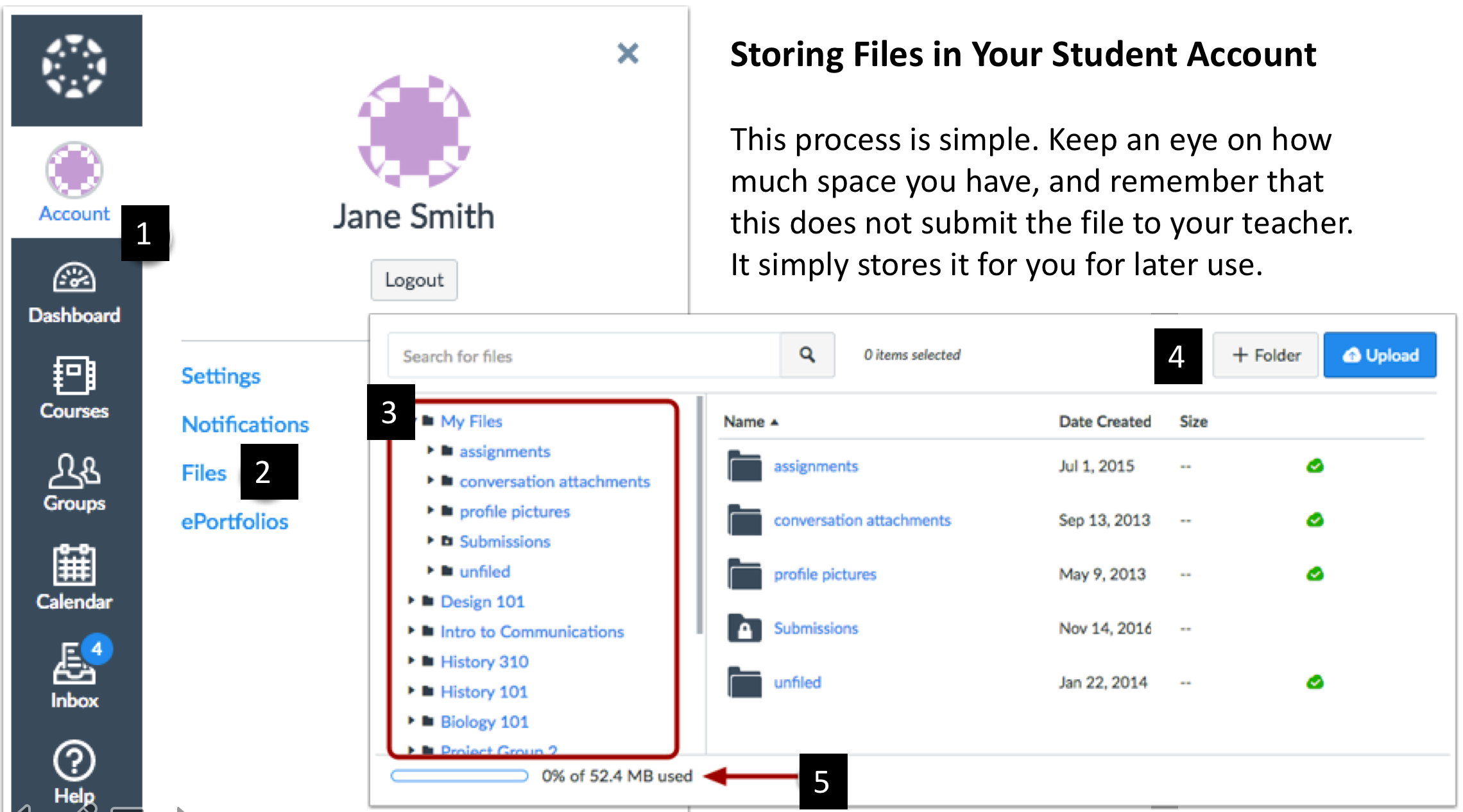 Follow this link to see more details on saving documents in Canvas.
Remember that this is storage. This is your personal storage space for files in your Canvas course. Uploading a document to storage DOES NOT SUBMIT THE DOCUMENT TO THE TEACHER. Teachers do not have access to your personal storage space.
Google Drive – Your school may have Google services for you. If you have a gmail address, you have access to Google Drive.
Dropbox – This is another service similar to Google Drive.
Old School – When you have no other options, you can go old school and email the file to yourself.