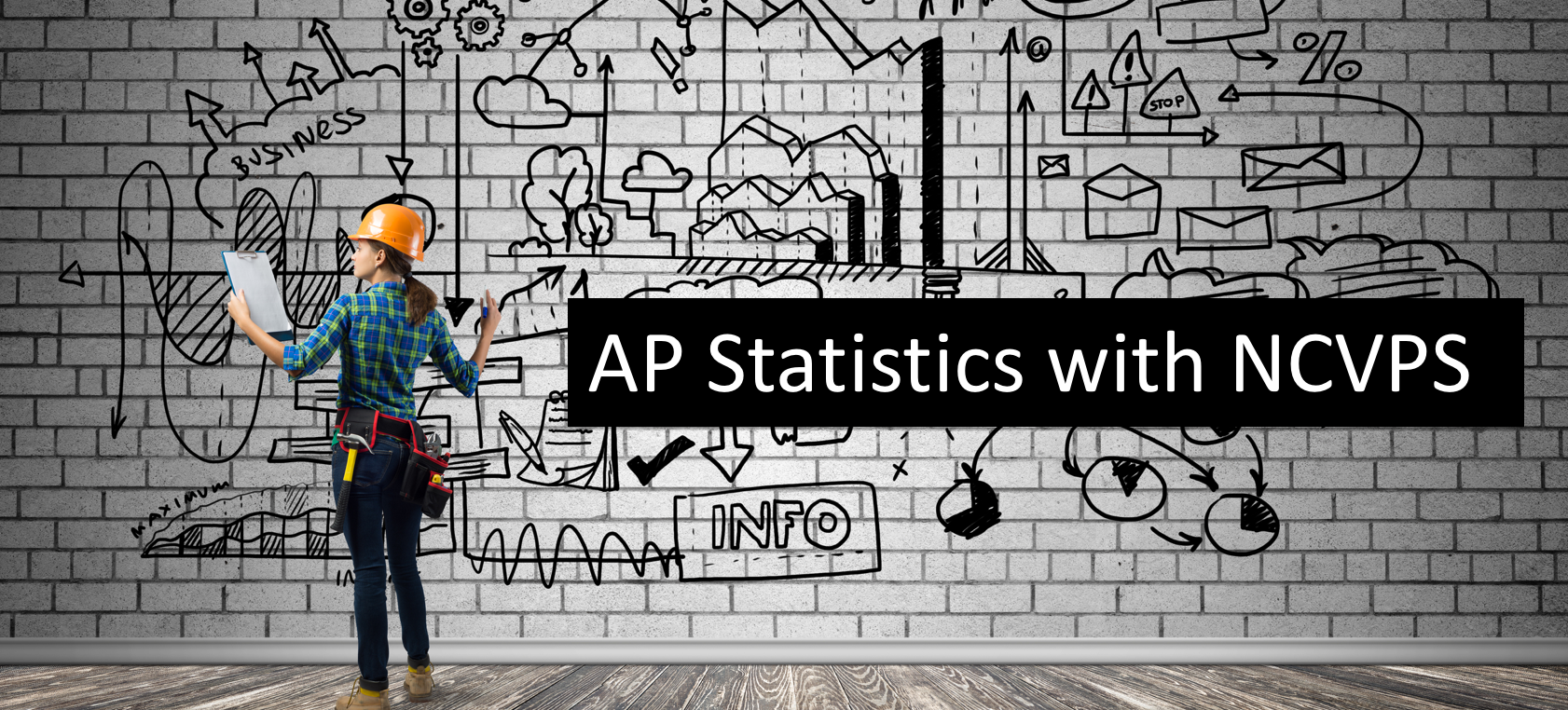 NCVPS will offer AP Statistics again in the fall of 2017. NCVPS has redesigned the courses, and we are eager for its rollout in the fall.
Course Details
Course Code: 25117X0 (2A037X0 for future)
Course Level: Advanced Placement
Course Offering: Year-long for 1 credit
Prerequisites: Math 3 or equivalent
Course Description: This is a year-long course that requires a 90-minute daily class amount of time. Also, students need to spend time working at home a minimum of 30 minutes daily on the textbook readings, class discussions, assignments, and tests. The course is designed to prepare students to collect, analyze and draw conclusions from data. Students will learn how to view data through a discriminatory eye to determine validity and be able to interpret data and analysis that is valid. Teaching the course is somewhat different than other traditional mathematics courses because it provides an answer to the age old mathematics student question of, "When are we going to use this?" Students will use real data, whether self collected or from a primary source, to perform analysis or to test hypotheses. Students will conduct simulations and studies to help anchor topics throughout the course. Data will come from a variety of sources ranging from national newspapers to organization websites. Students will be prepared to successfully take the AP Statistics exam in May.
Key Concepts
Explore concepts such as methodology and inferences through small group discussion and activities.
Design surveys and experiments, gather and analyze data numerically and graphically, and apply inferential statistics to draw conclusions for a population.
Course Benefits
Great for those that plan to study mathematics, business, Psychology or Science in college.
Helps understand the practical uses of statistics in real life.
Learn about data collection, conducting surveys and experiments, analyzing data, testing hypotheses and drawing conclusions.
Job Markets that Use AP Stats
Advertising & Marketing Managers

Aerospace Engineers

Agricultural and Food Scientists

Agricultural Engineers

Air Traffic Controllers

Aircraft and Avionics Technicians

Aircraft Pilots

Biological Scientists

Chefs

Chemical Engineers

Civil Engineers

Clinical Psychologists

Coaches and Scouts

Computer Programmers

Computer Systems Analysts

Conservation Scientists

Construction Managers

Curators

Economists

Engineering and Science Managers

Environmental Scientists

Federal Agents

Financial Analysts

Food Service Managers

Geographers

Government Executives and Legislators

Government Lawyers

Human Resources Managers

Industrial Designers

Industrial Psychologists

Management Consultants

Market and Survey Researchers

Mathematicians

Mechanical Engineers

Medical a

Meteorologists

Network and Computer Systems Administrators

Network Systems and Data Communications Analysts

News Analysts, Reporters, and Correspondents

Operations Research Analysts

Park Rangers

Physical Therapists

Physicists and Astronomers

Postsecondary Teachers

Private-Practice Lawyers

Public Accountants

Registered Nurses

Rehabilitation Counselors

Research Psychologists

Sales Engineers

School Psychologists

Sociologists

Software Developers

Special Education Teachers

Statisticians

Technical Writers

Top Executives

Web Designers