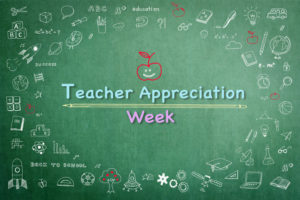 The bees have been buzzing!
On Tuesday, we asked your students to provide a SHOUT OUT for their teachers! The response in less than three days has been wonderful – almost 800 SHOUT OUTS and more are coming in each hour.
Your Directors will be getting those to you as soon as they can. We want you to see the wonderful observations your students are making about YOU. Thank you for your hard work with our students – they are so worth it.
Here are just a few of our NCVPS student voices about their NCVPS teachers to encourage us!
"Thank you for being so understanding! I have a crazy life between work and school; it's nice to know there is someone who won't scold me for mistakes I make! Thank you so much!"
"Ms. B is so great at rewarding good behavior and getting us to keep up with our work, even though we have never met! She gives daily shout-outs with little updates and congratulations for fellow classmates and it makes me feel as if I were in a classroom, being taught by a 'real' teacher."
"She explains the content very well. She also knows me well and knows my love for music! She makes what's important to me important to her and I appreciate that she takes the time to give me feedback not just about the course information but about what else is happening in my life at the given time."
"I love Ms. Anderson so much! She picks me back up and motivates me to graduate and get the course done!! Not to mention she is always keeping me on track. Thank you, Ms. Anderson!"
"Thank you for always being so quick to answer my questions! I have loved your class and I greatly appreciate how hard you work to stay connected and to make sure that I succeed!"
"I love having Mrs. McCarthy as an NCVPS Teacher. She always helps with my problems, and gives great explanations. She knows just how to help me efficiently. She's been a big help in my understanding of many topics this year. She also is great about asking us things as getting to know us, rather than just being like a robot, only here to answer questions. She has Text me Tuesday, where we answer a question not related to math! It's a great and silly break to get to know each other and has been a lot of fun this year. Thank you Mrs. Mc for making my first online course that much easier and less stressful! You always know just how to help."
"She does a wonderful job of keeping in contact with her students. Having a relationship with a teacher online is much harder than in person. Her efforts that she makes to form positive relationship really show her dedication. Mrs. Childress also keeps everyone motivated with her daily shout outs about the great progress everyone is making."
"Mr. McSween is a witty, intelligent teacher. His comments are always aptly put and well-timed. He provokes thoughtful discussion and is always trying to get us to open our minds. He was one of my favorite parts about WHAP!"
"Mr. Jiles has made every effort this year to prepare us for the AP exam while also celebrating the successes of students in the announcements. Through the year I really felt like Mr. Jiles really cared about not only my success in class but also what was going on outside of class as well. This is really rare, especially in an online learning environment like NCVPS, he deserves to be celebrated!"
"My shout out is 'you're awesome'! She communicates very well and explains things. She is kind, helpful, and on-top of things."
"He works so hard to get everyone excited about physical fitness!!"
"She is cool and she is the best teacher I had this school year and I will miss her at the end of the year."
"She is always so sweet, patient, & understanding with her students!"
And finally…..
"For a simple science class
I am fortunate to pass
You happened to have taught
And gave us a lot
You recognized us all
So none of us felt small
And you cared for what was going on
In our lives, right or wrong
Weekly questions provided
A way to make us united
Keep in touch with you
And prove what all we knew
So thanks! for all your work
And all that you've put in
For sticking with us to the end
And being our Teacher-Friend!"
And there are so many more! Thank you for all you do – your teaching matters!
Michelle Lourcey
Chief Academic Officer
North Carolina Virtual Public School