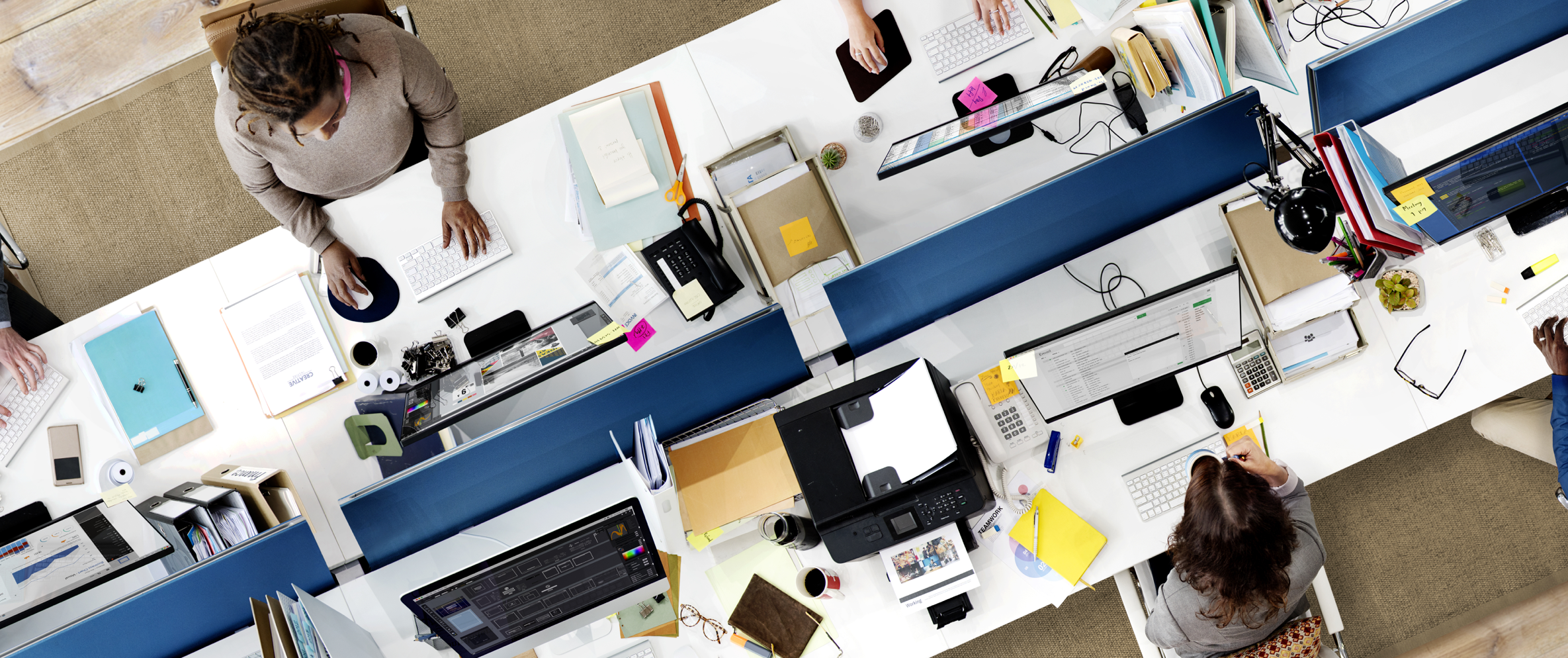 The Virtual Support Center resolves technical issues with front-line specialists and escalates tickets to the proper subject matter experts. To expedite your ticket request, the Support Center requires certain details in a ticket request.  We have listed a few of the more common requests below.
Open a Ticket
To begin with, you can open a ticket with our Virtual Support Center at this link.
Help with Student Issues
If you are opening a ticket with the Virtual Center that is in reference to a student issue, please include the following details:
Student's first & last name
PowerSchool ID number (This will help ensure we have the correct student)
School name (full name, i.e. Eastern Mills High School, not EMHS)
Course name – if the student is already enrolled, include specific section, i.e. EnglishIVSec01Sum17. You can find this information on an enrollment report or grade report.
Requests for New Student Accounts
If you need a new student account for a student who is new to PowerSchool (not just transferring schools), include the following:
Your full school name (i.e. Eastern Mills High School, not EMHS)
The student's first and last name
The student's PowerSchool ID number
The student's email address
The student's phone number (the contact number this will be in PowerSchool)
Does the student have an IEP? Yes/No
Does the student have a 504 Plan? Yes/No
Course Issues
When requesting help regarding a course,  the tech team can expedite your request more quickly if they have the specific section name, for example:
MathISec01Sum17
Replying to a Support Center Ticket
After you submit a ticket to the Virtual Support Center, you will receive a ticket confirmation and resolution via email. To expedite your resolution, please do not reply to the email. The email will have a link in it for your response. Please click on that link (see below).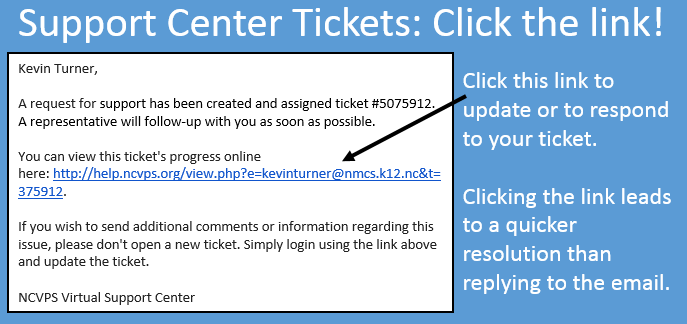 This will put the ticket right back in the queue of the person who is working on your ticket. If you reply to the email, then that will have to be manually put into the ticket, and that can delay the process by several hours.
Support Center Tickets in Canvas
Students are able to open a help ticket with our Virtual Support Center when they are logged into Canvas.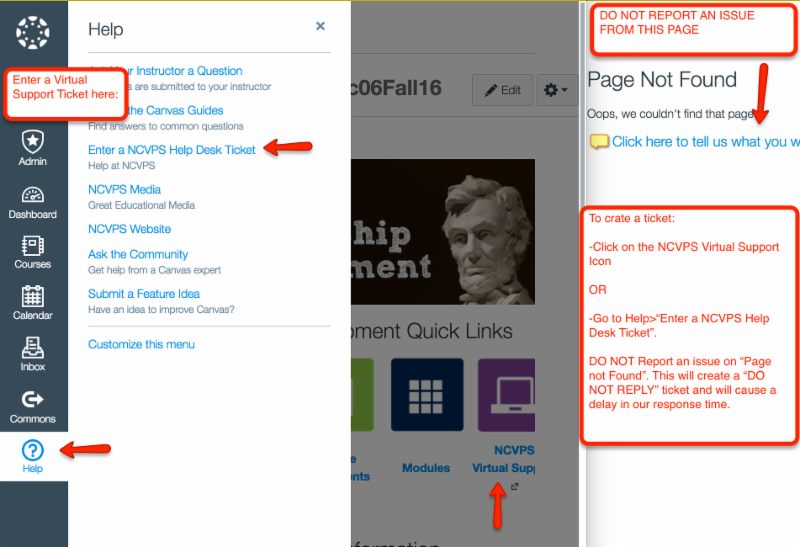 When "Page Not Found" appears users should open a Virtual Support ticket by clicking on the ? Help button then clicking on "Enter a NCVPS Help Desk Ticket."