The NCVPS Super Student Award is for students who have gone above and beyond the course requirements and as a result have enriched the content, class dynamic, their own learning, their classmates' learning, and even their teacher's learning.

Meet Josue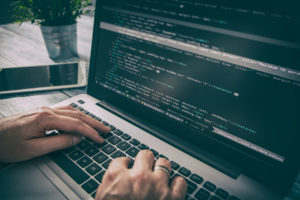 "Recently, Josue was awarded a Google Summer Internship as a result of his efforts in his AP Computer Science coursework. Google will be flying him to Massachusetts and paying for him to reside in the dorm and learn from Google programmers for 3 weeks this summer-all expenses paid! Josue has plans of finishing up this general education credits at Sandhills Community College through the Sandhills Promise Program and has already been accepted into UNC Charlotte, where he plans to transfer after he finishes up at Sandhills." —Moore County Schools, Growing to Greatness
"I REALLY want to intern and eventually work for Google. It's become even more possible for me because I got accepted into their Computer Science Summer Institute program in Cambridge, MA." –Josue D.
"Josue is determined to become a computer programmer or robotics engineer. He has never left his rural town of Robins, NC, but has always been highly motivated to surpass his circumstances always striving to exceed what is perceived to be his potential. Ironically, Josue was my 7th-grade student when I taught language arts and even back then he exhibited a strong work ethic and was goal-oriented. I was delighted to see him on my AP CSP Roster this year as a senior. I am extremely proud of his accomplishments." –Jilian Reynolds, NCVPS AP Computer Science Teacher
Advice for Online Students
Don't fall behind on work.
The Internet
Reddit because there's always something new.
Gadgets and Things
PlayStation 4, my mom thinks it's a total time waster, but I think it's an entertainer. I have spent so many hours on video gaming, now that I look back, I wish I spent my time on more productive things though.
Josue's Goals
My goal this semester was to learn more: whether it was about chemistry or being more organized.
Random Josue
I am an intern for the Town of Robbins, where I have written town policy.
Favorite Book
Corduroy – this was the first book (that I remember at least) that I felt taught me something. Printed books are way better. When I think of reading a book, I think of getting AWAY from a white screen.
Favorite Music
I like all kinds of music.
Favorite Show
I haven't had time to actually watch a TV show. It used to be The Walking Dead but the TV studio (AMC) got too greedy with money and made it way too long. Probably, the Big Bang Theory, but it's being stretched too long, as well.
Final Thoughts
I am more than ready to help my family through something I love: programming.
"AP Comp Sci really pushed my interest for majoring in CS." –Josue D.