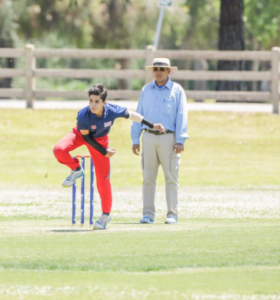 Smit Doshi is a star cricket player who pursues his passion full time. Smit took classes through our private and home schools program, which allowed him to meet the demands of his training, travel, and competition schedules. We recently caught up with the cricket phenom, and he shares his story with us.
Smit represented the USA Under 19 team and was the youngest player. He also captained the men's Philadelphia International Cricket Festival team and was part of the Under 19 World Cup qualifiers tournament that took part in Canada.
"I started playing cricket with my father at the age of 2 when I got my first bat and ball. After that things just took off and I started becoming more and more interested in the sport. My goal is to play the highest level of cricket there is and that is the reason that we have decided to move to Australia.
Our move to Australia is very exciting indeed, being one of the best cricket playing countries, the facilities and infrastructure are unmatched. Although a lot will be sacrificed to make this happen, I'm sure that a lot will come out of it.
My future plans are to be a contracted player playing for the International team. This is definitely my lifelong goal and will take an immense amount of work to make a reality. Regardless of the difficulty, with persistent hard work and support from others, anything is possible. The move to Australia will give me a platform, infrastructure, and the right guidance to make it happen." –Smit Doshi
NCVPS Experience
My experience with NCVPS has been incredible started with the support from teachers, staff, and even other students taking the course. This virtual school has allowed me to travel overseas for 6 months in Australia and 5 months in India. All of the opportunities that I had to further my experience, were only possible because of NCVPS
Advice to Online Students
My advice to other students is to never wait for the last minute to do work. From first-hand experience with this issue, I feel submitting work ahead of time is the best thing to do. Managing your time wisely and always putting education first is the key.
The Internet
I always like visiting cricket sited to see the recent news and scores. I am also subscribed to "The Download From MIT" which is basically an update on everything technological. The Download gives a lot to learn, from flying Uber to autonomous cars to AI.
Gadgets and Things
The iPhone is definitely my favorite although I tend to use the PlayStation on occasion. Besides these, something that I would love to have is the Oculus Rift VR Headset, something that I plan to purchase in the future.
Semester Goals
My goal this semester was to balance my education and cricket. I wanted to do well in school along with making time for cricket training. Time management is from my point of view the most important thing when taking an online course.
Favorite Music
My favorite song is the Hall of Fame by The Script. The lyrics are well written and has an upbeat tone to it.
Favorite Shows
My favorite series is definitely the Flash which I tend to binge on given time. The Maze Runner tops my favorite movies list.
More About Smit
"I'm also an endurance athlete having run a half marathon many 5k's and having biked 80 miles with my father for the American Diabetes Association. From a young age, I have always loved to complete and that competitive spirit is something that helps to go the extra mile even today.
We have a very sporty family started with my sister who is a competitive swimmer, my mother who has run a half marathon, and my father who has done two marathons and plays on the same team as me. Taking some time off cricket I like to catch up on movies and the latest shows, it really helps me to relax. Along with these things I love to bike, it is something that is a go-to in any situation and is great to keep fit."  –Smit Doshi