5/8/2019
End of Semester Tips and Reminders – Classes end on May 10 for Early Start and May 31 for Traditional Calendar courses. See our End of Semester Tips and Reminders page for all the details on how to close the semester.
Summer Contact Information – Districts and schools that are registering students for summer classes need to complete our NCVPS Summer 2019 ELA Contact Information form. See our announcement for details.
5/1/2019
Graduating Seniors – Final grades for early start classes will be posted on May 16, and final grades for traditional calendar classes will be posted on June 6. If you need grades for graduating seniors before those dates, please reach out directly to NCVPS teachers.  NCVPS teachers can accommodate this request for graduating seniors.
Early Start Students in Traditional Calendar Courses – Early start schools that have students enrolled in traditional calendar courses can make arrangements with their NCVPS instructors for their students to finish early. However, this must be done at the start of the semester. If requested, early start students are allowed to work at an accelerated pace to finish their courses early.  If you made arrangements with your NCVPS instructors, reach out to them directly your students' final grades.  
Progress Report with Anticipated Scores – The May 2 Early Start Progress Report will include the expected/anticipated CTE grades and anticipated EOC scores for all early start classes. There will be a second progress report posted in the registration system for traditional calendar courses, and it will be a standard progress report. You will receive the anticipated scores for traditional calendar classes on May 16.
4/30/19
NCVPS and EVAAS Rosters  – NCVPS does its own roster verification for NCVPS students in EVAAS. All NCVPS teachers who teach courses with an NCFE or EOC will need to verify their rosters using their provided NCVPS EVAAS Account. Schools should not create rosters for NCVPS teachers. If the student is in an NCVPS EOC or NCFE course, then the school should not claim those students in those courses except for co-teaching courses. Read the complete details in our NCVPS and EVAAS Rosters Announcement.
Request for Course Extensions – We will begin accepting requests for Early Start course extensions on May 6 and for Traditional Calendar courses on May 27. Read our full announcement on Course Extension Requests.
State Testing – See all the details about how NCVPS grades and the EOC, CTE, and NCFE state exams schools need to administer on our Grades and Testing Quick Reference Guide.
4/25/19
American History 1 – We have added a yearlong version of American History 1. You will now see that in our catalog and the registration system.
Request for Sections – If your school needs a yearlong or early start section that we do not currently offer, open a ticket with our Virtual Support Center. We will see if we can make it happen!
4/17/19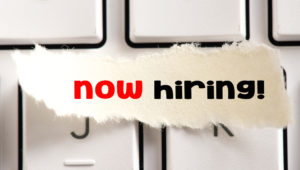 Hiring – The NCVPS curriculum team is seeking applicants to join our Middle Grades Math and Language Arts Development teams for next year. If you've recently or currently teach middle school courses, please see our Develop for NCVPS page to apply. We are hiring both writers and reviewers for contract work.
4/15/19
Health and PE Forms – If you're registering for our Health and PE courses, you'll see the pop-up reminding you about permission forms for those two courses. These forms are for your records that you will keep at your school.  You can create your own forms or use ours. See our Heath and PE page for details.
NCVPS Teacher of the Year Award – Congratulations to 2019 NCVPS Teacher of the Year Sarah Johnson! She was recognized at the State Teacher of the Year ceremony, pictured here with State Superintendent Mark Johnson and NCVPS Executive Director Eliz Colbert.  Great job, Sarah!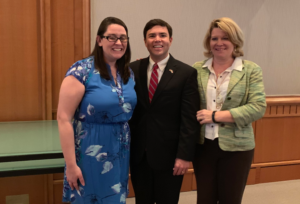 4/12/19
Catalog Updates – French III and IV, and Spanish III and IV now have yearlong options. Workforce Ready now has summer option.
4/11/19
Quality Matters Certifications – We are please to announce that our Math 2 and Biology courses have been certified by Quality Matters (QM). QM is a peer review process designed to certify the quality of online and blended courses. QM's mission is to promote and improve the quality of online education and student learning through the use of a quality assurance system and professional development. See all of our certified courses on our NCVPS QM Certified Courses page.
4/7/19
Arabic I and Python Programming I to our course catalog for 2019-2020.
Arabic II will remain off the catalog until further progress can be made. We will definitely have Arabic 2 ready by Fall 2020. If you have seniors enrolled in the Arabic 1 course, they wouldn't be able to get that second credit by graduation. We can't guarantee that at this time.
3/28/19
E-learning Advisor of the Year – Our search for this year's E-Learning Advisor of the Year is underway!
NCVPS teachers and staff members have nominated educators at the school or district level who have a positive impact on their NCVPS students. In the past, nominations have included individuals working in various roles such as the e-learning advisor, lab facilitator, EC coordinator, data manager, principal, and even the district e-learning coordinator.
We are proud to announce the following names of educators who were nominated this year:
Nartarshia Sharp – Crossroads Flex- Wake County
Marva Pittman – Peak Charter – Wake County
Erin Schneider – Orange High School – Orange County
Peggy Younce – Jimmy C. Draughn High School – Burke County
A big THANK YOU to all the wonderful ELAs who have partnered with to help make their students successful! We couldn't do this without you!
3/21/19
Registration Opens – NCVPS  registration for the 2019-2020 academic year will open on Monday, March 25. This includes Summer 2019, Fall Block 2019, Yearlong 2019-2020, and Spring Block 2020, and the early start enrollments for both fall and spring.
All enrollments will be counted in your new allotment totals for the 2019-2020 school year, which you will see when you log in to the registration system on Monday. Enrollment projections were also emailed earlier this week to district and charter school leaders.We have all the details below, including new registration videos, in the "Enrollment Details for 2019-2020" section.
3/13/19
Enrollment Options After Feb. 14 – We will still have three enrollment options for schools:
OCS: Schools can continue to enroll in their existing OCS sections throughout the semester.
1/2 Credit Health and 1/2 Credit PE Courses: Registration for our 2nd 9-week health courses will remain open until April 12, 2019.
Transfer Students:  After Feb. 14, we will begin accepting transfers requests. Transfer students must already be enrolled in a traditional course at the school with an instructor AND have a grade to transfer in with. Open a help desk ticket to start the transfer process.
2/28/19
College Readiness Services – Our Peer Tutoring Center has a great new program! Have your NCVPS students check out the College Readiness Services which is housed in our Peer Tutoring Center course and is available to all NCVPS students. The service includes resources for Study Tips, Standardized Testing, Class Help, Extracurricular Activities, and the NCVPS Cafe. It also houses an interactive discussion forum for students to ask questions about topics like Applying for College, Preparing for Exams, Scholarships, Internship Opportunities, and Extracurricular Activities.
NCVPS Career Cafe – As the NCVPS Cafe model has grown, we are now hosting a Career Cafe lecture series to include presentations about career paths and jobs by those working in the field. At NCVPS, we feel that is never too early to start thinking about your future. Through the NCVPS Career Cafe, we are now providing a platform for our students to gain insight and exposure to potential career paths while still in middle or high school.
Sessions focus on a large variety of careers and jobs, but all sessions will cover the following information:
Prerequisites & Education: Degrees, Certificates, Trainings, Professional Experience & Resumes
Getting the Job: Job Search, Interview Process, Internships, Apprenticeships, Climbing the Ladder
Daily Responsibilities (Micro): Job duties, Location, Market Environment
Industry Environment (Macro): Industry Trends, Competition
Join us in the Career Cafe to start thinking about your future after high school!
2/21/19
Did you know that all of your NCVPS students have access to some amazing peer tutors? That's right! Have students click the Peer Tutoring link on their course home page.

Students will watch a short tutorial video, and then they can follow the link to Upswing, the platform we use to host peer tutoring. Students log in to Upswing with the same username and password that they use to access the course.
2/14/19

NCVPS Career Cafe
State Superintendent Mark Johnson and North Carolina Community College System President Peter Hans have proclaimed February "Career Pathways Month" in North Carolina. The proclamation acknowledges the many great career paths that are available to North Carolina's public school students.
Our CTE, AP, math, civics, and arts courses can help schools expand the number of pathways they offer to their students.
Next week, we will release a matrix that shows specifically how our courses can fulfill, enhance, and compliment both career clusters and career pathways. Stay tuned for that!
Additionally, join us in our online Career Cafe sessions. The next one is scheduled for Wednesday, February 20 from 8-9pm. The session is titled "Ecotourism on the Outer Banks." It's open to everyone! See our NCVPS Cafe page for access details.