The NCVPS Super Student Award is for students who have gone above and beyond the course requirements and as a result have enriched the content, class dynamic, their own learning, their classmates' learning, and even their teacher's learning.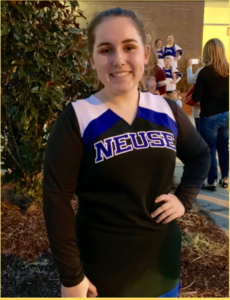 Meet Megan
"I decided to take an NCVPS class when I noticed that I was getting pretty good grades in eighth grade English. I wanted to push myself and see what I was capable of. I was already taking a year-long Math I course, so I decided that it would be good if I also took English I my eighth-grade year." – Megan B. – English I Student
"Megan is in 8th grade. She is doing exceptionally well in her high school English course. Not only has she worked ahead, but the quality of her work has been excellent. She includes a lot of detail in her writing." – Nancy Hooper – English I Teacher
Megan's NCVPS Experience
Taking an online course has advanced my education by introducing me to new ways to learn. I was used to the traditional teacher with a whiteboard, and taking an online course has made me figure out the best ways for me to learn.
A pleasant surprise has been how easy it is to communicate with my teacher. All I have to do is send her a quick email, and she always responds in a short time frame.
Megan's Online Learning Advice
My advice to other online students is to try to do your work before the day it's due. It's a lot less stressful when you're ahead and not behind.
Megan's Semester Goals
A goal I had this semester was to get at least an A. I had to make sure my work was done on time, make sure I understood the questions on a test, and correct mistakes that my teacher told me to.
Megan's Future Goals
In the future, I want to go to the University of North Carolina at Chapel Hill and get a Master's in Biology. Then I want to attend medical school at that university. I want to study to become a pediatric surgeon. After I have finished my schooling and received my license, I plan to move to northern Florida. To be able to this, I will have to keep my motivation up and not let my grades start to slip. I will have to not let anything distract me and get me off track.
Tidbits on Megan
I am a member of the National Junior Honor Society at my school; I am also the Historian. When I get to high school I would love to join the Unified club and become a member of the National Honor Society.
This year is my eleventh year of dancing and fifth year of dancing competitively.
I have traveled to Disney World 8 times. I have a 6-year-old sister named Eleanor, after the car in "Gone In 60 Seconds."
For Fun
I do cheer with my school, and last year was my first year. My coach gave me the leadership award at the Sports Banquet for winter sports.
I love watching documentaries about how people lived in a certain time period, such as "The Nineties" by CNN.
My favorite show is Friends. I love how the show explores all of the different character's lives while still making the show funny. The characters are relatable since they are just six people living their lives, not really doing anything special.
I don't spend my free time on my computer, but I do spend some time on my phone. My favorite apps are Instagram, Snapchat, Netflix, and YouTube.