The NCVPS Super Student Award is for students who have gone above and beyond the course requirements and as a result have enriched the content, class dynamic, their own learning, their classmates' learning, and even their teacher's learning.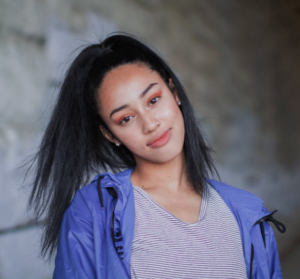 "I believe that taking online classes has proven that I am capable of being a responsible student with good time management. It has advanced these skills and will be helpful in any future career." – Jada
"Jada has been a rock star from the first day of Honors English IV. She submits excellent work, stays ahead on the pacing guide and always asks questions when she needs help or clarification. I was also impressed with her research, an interesting paper about "Not Pursuing the 4-year College Career Path." Jada is a true pleasure to teach! – Kimberly Rushton, NCVPS English IV Honors Teacher
Jada's NCVPS Experience: I took this English IV course because I'm graduating a year early and this is the one course that I needed to take in order to be done with all of my credits. I've also taken Honors American History 1 & 2 and Spanish 2 through NCVPS.
Jada's Online Learning Advice: My main piece of advice is to stay on top of deadlines in order to keep up grades. Another key piece of advice would be to maintain utmost communication with your online teacher as having a good relationship with them is super helpful.
Jada's Semester Goals: Since I attend an arts high school, I major in musical theatre and dance. The arts have played a huge role in my life and it is what I'm continuing to pursue after I graduate. I started a YouTube channel in December 2015. I create entertainment based content for a teen audience. I mostly vlog but I also give advice, do challenges, and create beauty and fashion related videos.
One goal that I had this semester was to finally reach my 4,000 hour threshold on YouTube so that my videos could be monetized. I recently reached that goal! I achieved this by uploading consistent and original content.
Jada's Future Goals: My future plan specifically after I graduate is to audition for Broadway shows, films, and dance companies. I want to be able to travel a ton throughout this process. I'm also planning to move to LA within the next 2 years to again further my career. In order to reach these goals, I'm going to continue to network with companies and agencies to hopefully gain a stable contract.
Tidbits on Jada: I am Malaysian Chinese and African American and don't really consider myself to look like anyone else I know! I owe that all to my family! I love my family so much as they have taught me lessons of hard work and humility. They have supported me through thick and thin and have sacrificed so much for me to be where and who I am today. I am also very goal oriented and tend to never stop working on personal projects. I teach weekend dance classes at a local studio for teens. It is how I generate my income as a teen. I'm a pretty huge advocate of entrepreneurship and want to be able to establish my own business within the next year.
My favorite book is You Are A Badass by Jen Sincero because it is really self-improvement driven as I aspire to have a healthy mindset. It talks a lot about how we have the ability to control our successes and that the ball is ultimately in our court, we just have to play the game. She displays all of her advice in a humorous and knowledgeable way that captivates me.
For Fun: My favorite internet sites happen to be YouTube and Instagram. I spend most of my online time on these social media platforms. I also enjoy being outdoors and spending time with friends and family. I find it calming to get away from social media and school work every once in a while.