The NCVPS Super Student Award is for students who have gone above and beyond the course requirements and as a result have enriched the content, class dynamic, their own learning, their classmates' learning, and even their teacher's learning.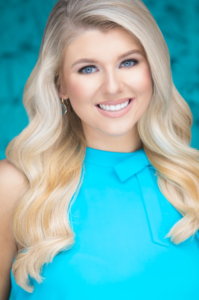 "Taking online courses allowed me to learn in a much more productive way. I am learning through action and application to assignments, not lecture and regurgitation like in many face-to-face classes. I have also learned to manage my own time because I am in charge of when the work gets done. I'm very glad that I have had the opportunity to take classes through NCVPS as it has allowed me to grow outside of the classroom and pursue extended opportunities." – Taylor L.
"In addition to keeping up with all the work in AP Lit and Comp, Taylor has played Ursula in the play The Little Mermaid and participated in the recent NC Teen Scholarship Competition in which she came in 3rd place. She is always positive in her correspondence with me and always positive in her interactions with me and her peers." – Christine Capen, NCVPS AP English Literature and Composition Teacher
Taylor's NCVPS Experience: I chose to take classes with NCVPS because they allowed me more flexibility to pursue extracurricular interests. I have taken AP English Literature and Composition, AP Government and Politics, and AP US History through NCVPS. I have found that taking NCVPS courses has actually been a very personalized educational experience. I am able to directly communicate with my teacher and assistance is given to students individually to fit our personal needs.
Taylor's Online Learning Advice: Have a routine for getting things done. It is so easy to let the work pile up until the last possible second, but if you work a little every day and work ahead when you feel so inclined, you won't be stressed.
Taylor's Semester Goals: My goal as a second-semester senior was to have all A's in my courses upon graduation. I'm very happy to have maintained my academics this year and I credit this success to time management skills and not being afraid to communicate with my teachers.
Taylor's Future Goals: I will be attending the University of North Carolina at Chapel Hill this coming Fall! I plan to graduate from there with a music and political science double-major and pursue a career on Capitol Hill as an arts lobbyist for an organization like Americans for the Arts that I have worked with in the past.
Tidbits on Taylor: I've participated in the Miss North Carolina's Outstanding Teen Organization for the past 3 years, and they have awarded me over $2,000 in college scholarships. Additionally, I have founded my own community service organization, Healing Hearts Through the Arts 501(c)(3), which provides music and art supplies to those in need along with legislative advocacy.
Two of my favorite musicians are Freddie Mercury and Nina Simone. Both artists are highly influenced by classical music which I also enjoy. Their lyrics are very poetic and the music as a whole has a very abstract artistic component.
For Fun: I spend too much time on social media, much like many other teens. Most of my social media engagement is through Instagram and Snapchat, as I'm able to directly interact with my friends.
My friends and I like to go to a French bakery in Charlotte and sing along with the live pianist who plays on the weekends. It's like karaoke, but much better!