The NCVPS Super Student Award is for students who have gone above and beyond the course requirements and as a result have enriched the content, class dynamic, their own learning, their classmates' learning, and even their teacher's learning.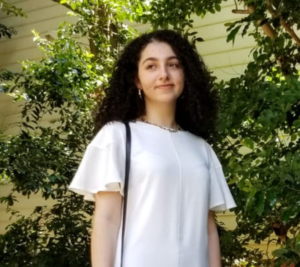 Meet Menna J.
"This English 3 Honors course was really different from other classes I've taken in general in that for most assignments, students were greatly encouraged to use a wide variety of mediums to display their work in very creative ways. Most assignments involved creating displays of knowledge instead of simply answering written questions or writing papers. This was something I greatly enjoyed because it allowed me to learn the material well and express academic creativity at the same time. I believe that this style of teaching is much more effective than styles traditionally used in literature/English courses because students tend to remember information more effectively when they have attached specific memories to that information. For example, most students will learn a topic more thoroughly by creating a dynamic presentation than by merely writing a paper." – Menna J.
"Menna is very motivated and disciplined. She has a 'can do' attitude and more times than not, she exceeds expectations (and they've increased over the semester!). Menna is intellectually curious, self-driven, and has wonderful time management skills." – Kristy French – English 3 Honors Teacher
Menna's NCVPS Experience: The English III NCVPS course I took this semester was the first online class I have taken during the school year. The primary reason I took this course revolved around the fact that my family is moving shortly following the school year, and because I attend an early college. I had taken college English courses this year instead of English III. I was determined to fulfill the English III junior requirement before I moved, and therefore opted to take an online English III course during my second semester of 11th grade. This online course covered in detail much material that I am familiar with, and it focused heavily on expanding student writing skills and creative ability.
Menna's Online Learning Advice: My advice to other online students is to set a period of time each day aside specifically to work on assignments for their assigned online classes in order to maintain a steady pace throughout the course and avoid missing assignments or turning work in late. Additionally, communication with the course instructor is very important. I believe that students should also make an effort to exceed expectations with each assignment. Creativity will help students better understand course material and will make them memorable to the instructor, which is always good.
Menna's Semester Goals: This semester, my primary goal was to maintain consistently high grades throughout the school year. The classes I took this year were almost all AP or college courses, so during the year, I followed a weekly plan in order to manage my time and workload. I also used online organizers to categorize my assignments and assessments for each class, which helped me greatly to stay on task and accomplish my goal this year.
Menna's Future Goals: In the future, I would like to be a pharmacological researcher. I am very interested in health sciences and medicine, and I plan to major in either biochemical engineering or pharmacology with a minor in computer science in college. In this day and age, it is clear that the medical field is relying heavier and heavier on new and advanced technologies to save lives, and I can definitely see myself researching and developing drugs or vaccines, or programming/developing technical solutions to widespread medical issues. To achieve these goals, I plan to attend college for both undergraduate and postgraduate studies. Additionally, I plan to secure internships and volunteer experience at medical tech and pharmacy institutions.
Tidbits on Menna: Including the US, I have lived in 3 countries and traveled to 9. I was born in Tripoli, Libya, and my family moved to Iraq shortly after. When I was 7 years old, I immigrated to Massachusetts and later North Carolina. I believe that this is one of the reasons for my intense determination to succeed. As a first generation immigrant, I am able to fully appreciate the opportunities that living in the US provides compared to many other countries.
For Fun: When I have downtime outside of school, I really enjoy learning new things. Programming and web design are among my favorite hobbies. So far, I have learned HTML and CSS, and I'm currently learning Java. I like to spend time outside, usually biking or walking near my home. Music is also a big part of my life. I listen to a wide variety of artists, and some of my favorite artists include Frank Ocean, Kali Uchis, Kendrick Lamar, and Amy Winehouse. Over the years, I have noticed that my music taste is more lyrically than instrumentally focused.