The NCVPS Super Student Award is for students who have gone above and beyond the course requirements and as a result have enriched the content, class dynamic, their own learning, their classmates' learning, and even their teacher's learning.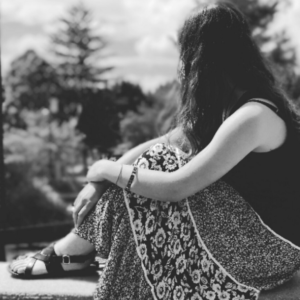 Meet Aundrea R.
"NCVPS has been a tremendously rewarding experience for me, allowing me to take classes that they don't offer at my school and broadening my educational background."  –Aundrea R.
"Aundrea goes above and beyond for every photo project. Her work ethic is excellent, she shares her personal photography with me and her artistic sense is strong." — Michele Nelson, NCVPS Art of Photography Teacher
Aundrea's NCVPS Experience: Art of Digital Photography I was my second course with NCVPS, and I've got to say that both NCVPS experiences were great. The main draw for me, at first, was Medieval Studies. As a child, I was fascinated by Grimm's Fairy Tales, The Chronicles of Narnia, and The Lord of the Rings, which, for me, led into a larger love of reading and writing, particularly in the fantasy genre. I was looking into classes near the end of the last school year when a friend mentioned online courses to me, and, after checking out the list and seeing a course on medieval history and a course on photography, I had to enroll.
Aundrea's Online Learning Advice: Do not fall behind in anything. You might think it doesn't matter this one time, but this one time can very easily turn into a dangerous habit. Just try not to do it.
Aundrea's Semester Goals: I wanted to improve my photographer's eye so that I could use those skills in my travels. By challenging myself in Photography I, trying to learn the actual applications of what I was learning in class, I think that I have prepared myself better for future travels and even opened an appreciative eye for photography that will benefit me every day.
Aundrea's Future Goals: There are many things that I'm interested in doing with my life, but I will certainly publish a book even if it kills me. I'm contemplating entering into the armed forces, but have also thought about going into architecture or landscaping. When I'm old, I want to write and own a farm, but who knows what the future holds?
Tidbits on Aundrea: I get far too excited when asked about my favorite books and movies; there are many to choose from. My usual response to the movie question is The Dark Knight, from which I usually elaborate with how amazing Christopher Nolan is (which he is). If that didn't sound embarrassing enough, I actually analyzed The Dark Knight Trilogy for this year's junior research paper. Yep. But there really are about a bazillion different movies to love out there and even more books. I've already mentioned Narnia; I'm also a fan of A Song of Ice and Fire, Pride and Prejudice, Throne of Glass, anything Neil Gaiman, Hitchhiker's Guide to the Galaxy, and an unrepresentable number more. One day, I hope to just collect all of them, the movies, books, and shows that I love, all the stories that I haven't mentioned here in one place.
I like to travel. My club soccer team won the South Carolina state championship in my freshman year and moved on to regionals in Oklahoma (we won a sportsmanship award but lost most of our games). From there my family launched a cross-country road trip, hitting every state west of the Mississippi save North Dakota, Oregon, and Minnesota. My sister was in third(?) grade at the time, so we got into a lot of National Parks free of charge— The Grand Canyon, Petrified Forest, Craters of the Moon, Grand Tetons, Badlands, and Yellowstone. It was a wonderful experience, cramped as our seating was, and it was then that I began really to get interested in photography. When two of my sisters and I (and our parents) took a European road trip last summer, I really started develop a photographer's eye. We visited Germany, France, Liechtenstein, France, Italy, and Austria. I really loved Europe— the castles, the scenery, the Alps— and will return with a better camera.
For Fun: I prefer the outdoors most of the time; I live next to a state forest, so my family hikes a lot. I don't spend a ridiculous amount of time online outside of school, but I like YouTube and Spotify. I was on the school's varsity soccer team this year, which lost in the fourth round of playoffs. I also play club soccer. I have six siblings, which could be fun if it weren't so loud.