The NCVPS Super Student Award is for students who have gone above and beyond the course requirements and as a result have enriched the content, class dynamic, their own learning, their classmates' learning, and even their teacher's learning.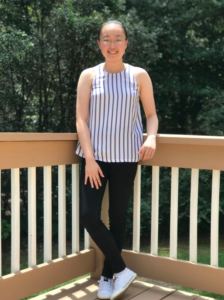 "When I first discovered NCVPS in my sophomore year of high school, I was so happy to see how there were many courses offered there that were not offered at my school. NCVPS has given me the opportunity to take the classes that I want to take, and it has opened up my eyes to numerous possibilities." – Kathy H – NCVPS Student
"During the extremely face pace of summer, Kathy has demonstrated an amazing ability to easily meet all deadlines and work ahead in the course. Her effort is amazing, going above and beyond the assignment requirements to demonstrate her knowledge and mastery of the topics. She does not hesitate to ask if she has questions, and she quickly responds when I reach out to her. Her intelligence and effort are exceptional!" – Allison Crawford – Honors Anatomy and Physiology Teacher
Kathy's NCVPS Experience: I have taken Psychology Honors, AP Psychology, and Anatomy and Physiology Honors through NCVPS. I am really interested in both natural and social sciences. Although my school already offers some of these classes, I still chose to take them through NCVPS, especially during the summer, because I wanted to have a different experience and also get ahead in my classes at school.
Anatomy and Physiology Honors has shown me that there are other ways to learn besides simply taking notes and dissecting. For example, I was able to learn about the function of lungs through creating a lung model out of balloons, straws, and part of a water bottle. I also created a skeleton out of household items. I want to become a doctor, and so Anatomy and Physiology Honors has helped to reassure me that this is exactly what I want to do in the future.
Kathy's Online Learning Advice: Try to stay on top of your work and pace yourself. It definitely helps to work on your course every day rather than wait until the last minute to complete your assignments by the due date.
Kathy's Semester Goals: I have always been fascinated with the human body, and so I wanted to learn more about it and use this knowledge for my future studies. Anatomy and Physiology Honors is a challenging class and requires a lot of memorization, but I think that I was able to make it more fun for myself by creating colorful notes and doing cool projects to help me further understand each topic.
Kathy's Future Goals: Ever since I was a little kid, I always knew that I wanted to do something in the medical field like becoming a physician. I do not really know what kind of doctor I want to be yet, but I know that I want to do something with this field. My goal right now is to get into the college of my choice and possibly major in biology with a pre-med track. I will try to make the most out of my senior year to reach these goals.
Sometime in the future, I would love to be able to travel around the world and explore different cultures. I have never traveled outside of the United States, but it would be a dream of mine to be able to visit all of the continents, especially Europe. My aunt and cousins live in France, and so I would definitely love to visit them.
Tidbits on Kathy: If I had to choose between spending my free time online or volunteering, I would choose to spend my downtime volunteering. Volunteering is one of my favorite things to do because of how it gives me a chance to use my skills in order to make a difference to the people around me. I usually volunteer at my church as well as the local library. I am also volunteering at a medical center this summer.
For Fun: I am a member of my school's Key Club, and I also serve as its treasurer. Key Club is a student-led organization that helps to perform acts of service in local communities such as organizing food drives as well as volunteering at local charities. Volunteering is something that I am really passionate about, and so I do my best to contribute to this club in any way that I can.
I play the piano, organ, violin, viola, and flute. I have been playing piano ever since I was three years old, and I just learned to play the flute last year. Playing in my school's orchestra and band has been a rewarding experience for me. The whole ensemble depends on each person and would feel different even if one person is not playing. If one person messes up, it would also mess up the whole band or orchestra. Every member contributes to the success of the ensemble, which is why it is important to practice.
Another hobby that I like to do is make art. When I was in elementary and middle schools, I loved to draw, and my skills have gotten better over the years with practice. My middle school art teacher would make me learn many art terms, and I used to think that it was so tedious and unnecessary. However, I later had to thank my teacher for teaching me these terms because they helped me with my high school art. During my sophomore year of high school, my artwork was featured in several art exhibitions and contests. To further my skills, I plan to take AP Studio Art this year.