The NCVPS Super Student Award is for students who have gone above and beyond the course requirements and as a result have enriched the content, class dynamic, their own learning, their classmates' learning, and even their teacher's learning.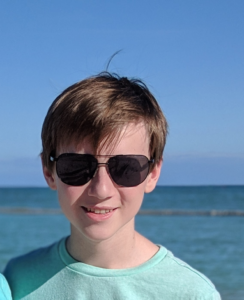 "NCVPS allows me to get ahead of my work and have a more challenging environment." – Christopher A. – NCVPS Student
"Christopher began working ahead the very first day of the course. He has excelled in all his coursework, done amazing presentations full of engaging audio/video effects, and has stayed ahead of pace throughout the semester. He has been a joy to teach and I am able to learn new ideas from his work." – Dustin Weaver – Math 2 Honors Teacher
Christopher's NCVPS Experience: I take Honors Math II.
Christopher's Online Learning Advice: Set a time every day during which you will do your schoolwork, so you don't forget.
Christopher's Semester Goals: One goal I had was to create a program to help automate what I do. I would say I'm about 70% done with it.
Christopher's Future Goals: My future plans are to get into NCSSM, then get into a tech college, then either work for a big company or start my own. Steps will include learning more about code and science/math.
Tidbits on Christopher: My favorite book is Ender's Game by Orson Scott Card.
For Fun: I spend most of my time on YouTube/Twitch. I like to code and program on the computer, as well as swim.