The NCVPS Super Student Award is for students who have gone above and beyond the course requirements and as a result have enriched the content, class dynamic, their own learning, their classmates' learning, and even their teacher's learning.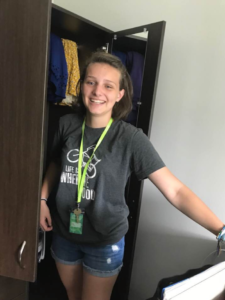 Meet Ellen S:
"A pleasant surprise from online course with NCVPS is that I get to use my art skills for assignments." –Ellen S., American History I student
"In American History I, Ellen actively engages with the content and is an exceptional writer. Outside of class she participates in Raleigh Little Theater, volleyball, basketball, Key Club, and Love Mutts Rescue. She also loves drawing and stop-motion animation." –Christopher Watson, American History I Instructor
Ellen's NCVPS Experience: I've taken American History 1 and American History 2. I am able to do my work at Raleigh Little Theater 9-5 and do coursework in my spare time in the evenings and on weekends.
Ellen's Online Learning Advice: Don't procrastinate. Get the work done by working on it every day and follow the pacing guides. Remember to submit on time and communicate with your instructor.
Ellen's Semester Goals: A goal I have this summer is to practice driving and get my license. I am ready to take my test and drive my new car.
Ellen's Future Goals: After college, I would like to work at a studio because art is my passion.
Tidbits on Ellen: My favorite movie is The Little Prince because it has all different types of animation.
I am a member of Girls Scout Troop #563, National Honor Society, Key Club, Love Mutts Rescue, and Yearbook.
For Fun: I volunteer for Key Club activities such as Wake Crisis MInistries, highway cleanup, Kiwanis events, and in local parades.
I was selected as a crew member of Teens Backstage for Antigone at Raleigh Little Theater. I got to build sets, select props, paint scenes, and costumes. It was interesting learning how to use the fog machine and do stage lighting.
I spent last summer at Savannah College of Art and Design studying Stop Motion Animation and Illustration. It was an awesome early-college experience.