The NCVPS Super Student Award is for students who have gone above and beyond the course requirements and as a result have enriched the content, class dynamic, their own learning, their classmates' learning, and even their teacher's learning.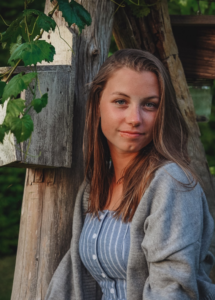 Meet Addison
"Taking these online courses have taught me how to manage my time, communication skills, and also challenge myself in different ways. I have enjoyed taking online classes with NCVPS because the teachers are so helpful and they are easy to work with." –Addison R., NCVPS Student
"Addison goes above and beyond her work in course, and her work ethic is admirable. Ever curious, she is a student that regularly reaches out for advice and critique on her work. Talented Addison competed recently at the state level SkillsUSA high school photography division winning the 5th place among 18 other competitors. Participants had to compete in an on-site shoot, a studio shoot, make contact sheets, take a 75 question test, color correct images, do a mock job interview, and identify errors in 10 random images. Addison won 1st place for her hawk photo and an Honorable Mention for her owl photograph at Grandfather Mountain's Nature Photography weekend event." –Beth Wolz, NCVPS Digital Photography II
Addison's NCVPS Experience: I started taking classes with NCVPS because there are not many opportunities for me wanting to go into a film and photography major. I have taken Digital Photography 1 & 2, Visual Journaling, and French 1 & 2.
Addison's Online Learning Advice: My advice to any other student thinking about or taking an online class is to manage your time wisely and communicate with your teacher on a regular basis.
Addison's Semester Goals: My goal for my senior year is to raise money by selling some of my photos on canvas to donate to one of these organizations. I would love to go on a mission trip with Wine To Water as well in the future. I have also started a local scholarship for a senior in the class of 2020. The scholarship will be awarded to a student who wishes to pursue a major in the artistic pathway (art, music, photography, film, graphic design, ect). To raise money, I have been asking for a minimum donation of $1 a photo. I just started at the beginning of June and have already raised around $250. My goal is to get a least $500 by the spring.
Addison's Future Goals: My goal after high school is to go to my dream school SCAD (Savannah College of Art and Design) and major in Film. I also would like to play golf on the college level. My dream job is to become a film director. To help achieve these goals I have been working hard not only in the classroom but also at home and by others to learn as much as I can.
Tidbits on Addison: I spend most of my time using Adobe Premiere Pro, Lightroom, or Photoshop along with social media.
For Fun: When I am not editing photos or videos I love to go outside and hike and play golf. In school, I am a part of the National Beta Club which I served as a Historian. I am also a part of Skills USA and I had the opportunity to help start the club at our high school last year. Some organizations I am really passionate about are Wine to Water, Thirst Project, and Make a Wish Foundation.