The NCVPS Super Student Award is for students who have gone above and beyond the course requirements and as a result have enriched the content, class dynamic, their own learning, their classmates' learning, and even their teacher's learning.

Meet Austin S.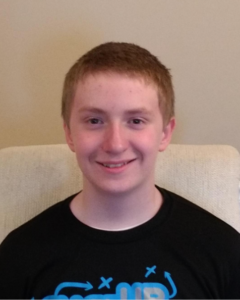 "It really surprised me how my teacher was able to stay connected with me and my virtual classmates although the class was completely online." – Austin S., NCVPS Math 2 Student
"When Austin S.'s NCVPS teacher recommended that he join the Peer Tutoring Center, he saw it as a great opportunity to help other students in their courses. He is Director of Technology for the emerging NCVPS Research Alliance, a part of the Tech Support Team, writes for the TutorTalk blog, and is also a peer tutor in the courses of Computer Programming I and Math I. Shortly after becoming a member of the PTC, he noticed that an application integrated into the PTC Tech Support training module was no longer compatible with Canvas. He quickly alerted the Tech Support team to make sure that the issue was fixed for future students who completed the module. In addition, he has created a video for NCVPS Tech Support about clearing cache on Google Chrome and was rated five stars for his first tutoring session. Not to stop here, when another tutor proposed developing a research alliance between students and NCVPS Instructor sponsors, Austin jumped on the opportunity to serve as their Director of Technology (alongside working on his own research project)." – Elizabeth Seastrunk, Peer Tutoring Center Instructional Lead
Austin's NCVPS Experience: Taking both Math 1 and Math 2 with NCVPS in eighth grade allowed me to be a year ahead in math. This coming year, as I start ninth grade, I will be able to take Math 3, allowing me to take AP Statistics in tenth grade.
Austin's Online Learning Advice: My advice for other online students is to learn from your mistakes in all assignments you do. If you don't understand a specific topic and you are about to take a formative assessment or assignment that has two or more possible attempts, I would recommend that, after you complete the assignment the first time to the best of your ability, you review your answers and the automatic feedback in the assignment to further understand the topics before you try the assignment again. I would also recommend that you go to the Peer Tutoring Center and ask one of the tutors (if you want, you can schedule a session with me since I'm part of the PTC) about any topics you are unsure about, especially if you only have one try with an assignment or if you have already tried the assignment once and don't understand what you did wrong. Although I have never scheduled a session with the PTC, after becoming a tutor, I have realized the program's importance.
Austin's Semester Goals: Two goals I had this past semester (Summer 2019) were to work to complete my Student Research Alliance research project and to develop the tech support AI. To achieve the development of the tech support AI, I programmed the AI and debugged it until it worked. I'm still working on my Student Research Alliance research project due to a delay in the selection of teachers to become advisors, but have already done a lot of research and have only 5 more sections to complete to finish the rough draft.
Austin's Future Goals: My future plans are to go to MIT on a full-ride academic scholarship where I would work for a double-major in aerospace engineering and computer science and a masters degree in aerospace engineering. Then, I would move to either Florida (for Kennedy Space Center) or Texas (for Johnson Space Center) to get a job at NASA (most likely Texas) as an engineer, flight director at mission control, and/or astronaut. I hope to be the first person on Mars. To achieve these goals, I will work hard to become valedictorian at my high school and apply for internships at NASA after I turn 16.
Tidbits on Austin: I really enjoy volunteering at the Peer Tutoring Center in the many projects including the tech support team (we are currently expanding our tech support AI to allow for asynchronous support in any subject) and TutorTalk blog (I'm currently working on my second article) as well as tutoring and the new program: the Student Research Alliance (I am currently the Director of Technology and am researching Deep Space Exploration Systems). I also was recently chosen by the Lead Statistician to become his apprentice so I can fulfill the role after he graduates.
For Fun: I recently had the opportunity to see the launch of STP-2 from Florida. This was also the third ever launch of SpaceX's Falcon Heavy and the first nighttime launch of the Falcon Heavy. My favorite Internet sites are Scratch (programming language at scratch.mit.edu), GitHub (open-source code website at github.com), NASA (all of the nasa.gov websites), SpaceX (spacex.com), W3Schools (coding tutorials at w3schools.com), StackOverflow (programming troubleshooting forum at stackoverflow.com), mathsisfun.com (math tutorial website and where I taught myself calculus and trigonometry) and YouTube (for watching videos by NASA, SpaceX, Northrop Grumman, Lockheed Martin, Boeing, ULA, Rocket Lab, etc.) I spend most of my time online doing aerospace research, astronomy research, advanced math problems (including Riemann's Hypothesis), and programming.