The NCVPS Super Student Award is for students who have gone above and beyond the course requirements and as a result have enriched the content, class dynamic, their own learning, their classmates' learning, and even their teacher's learning.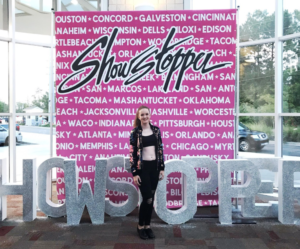 Meet Hannah D
"I am grateful to have the opportunity to take courses in NCVPS because without them, I wouldn't be where I am now and I wouldn't have the same opportunities I have access to today. They have been extremely helpful in advancing my education to my needs while maintaining a pace that suits me." -Hannah D., NCVPS Student
"Hannah is an all-around tutor and person. She loves helping others, and she became a tutor so she could meet and reach out to students across North Carolina. She tutors in English, math, and a variety of sciences. Not only is she an accomplished tutor, she is an active runner and dancer. You might find her competing in a running event or a dance event. This young lady is rarely still, and she thrives enjoying her life and helping others along the way. Hannah is a valuable asset to the NCVPS Peer Tutoring Center as a team lead, tutor, and TutorTalk contributor. She is a Super Student!" -Kim Loudermilk, NCVPS Teacher
Hannah's NCVPS Experience: So far I have taken Earth and Environmental History, Math 2 Honors, and World History Honors. I take online classes whenever my school's budget can allow, but since I live in a lower-income county, I don't always have an opportunity to take a course.
Hannah's Online Learning Advice: My advice to other online students is to stay on top of your work. Sometimes it can be tempting to do anything else than your work, but it will be more than worth it to finish your work.
Hannah's Semester Goals: My goal this summer was to complete my online course with a grade above 96 to maintain my status on the superintendent's list at my school. I worked hard to balance my classwork with all the other things going on in my life, and after 8 weeks, I accomplished my goal.
Hannah's Future Goals: My current goal is to apply to NCSSM, where I can further my STEM-related education and participate in the amazing activities the school offers. To do that, I need to take the SAT, which I am currently studying for. After high school, I plan to apply to a college where I can learn about subjects I love, like biology, genetics, and math.
Tidbits on Hannah: I enjoy tutoring with the PTC. Aside from just tutoring, I also work as a Team Lead; I help out new tutors to get adjusted to the whole process, and I help keep them on track. I occasionally volunteer in other parts of the PTC, like the TutorTalk Blog, where I can write an article. When I'm not working on other things, I love to spend time outside playing with my dog, practicing for sports like track, dance, and tennis, and recently, skateboarding. With my dance studio, I attend competitions where I compete in jazz, tap, clogging, and production. My tap routine was awarded with an invitation to a national competition. Also, I grow watermelons each summer, and this year I grew enough to sell at my local farmers market.
For Fun: I'm a passionate member of the FFA, where I serve as the Reporter for my chapter. I love to compete in agriculture-based events, learn about agriculture, and have the opportunity to experience what I learn about. I also enjoy Science Olympiad, where I get to research my favorite topics in science and compete with my knowledge. In Beta club, I get to develop skills that will help me throughout my career while having a fun time.
I love to try new things that challenge me. In track, I ventured out of my comfort zone to try the 100m and 300m hurdles. And right now I'm learning how to play tennis and ride a skateboard. I enjoy learning new skills and hobbies.