NCVPS has a number of resources to assist students with their NCVPS courses. Each resource has specific areas it can help with. Check out all the resources below.
CONTACTING THE NCVPS VIRTUAL SUPPORT CENTER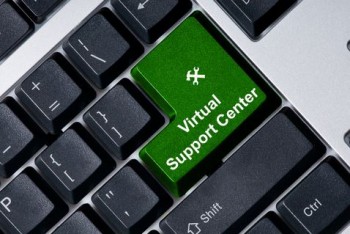 The Virtual Support Center can help students with the following issues:
Reset Canvas passwords
Help with other login issues
Assist with technology problems within your course
Answer general questions about NCVPS
The Support Center can't help with course content questions, such as homework help.
Open a ticket with our Virtual Support Center at this link.
CONTACTING THE eLEARNING ADVISOR (ELA)
Your eLearning Advisor is the person who registered you at your local public school. If you need further information on who this person is, contact your school and they will direct you to the appropriate person.
CONTACTING YOUR INSTRUCTOR
If you need to contact the instructor of your course, please check the course for a staff or faculty button on the menu for their email and phone number. If you continue to have difficulty contacting your instructor, please see your eLearning Advisor (ELA) on your school campus.
The instructor can help with the following:
Answer course content questions
Reset tests and quizzes
Fix dead links
Answer basic course questions
Answer grade questions
HELP WITH GERMAN COURSES
NCVPS German courses are taught by Oklahoma State University (OSU). You can still use the NCVPS Virtual Support Center to help with any issues within your German course. Questions can also be directed to the Oklahoma State University (OSU) Help Desk at german.online@okstate.edu OR 1-800-423-6493.
LOGIN ISSUES
Are you having difficulty logging in? Here are the solutions:
Be sure that you have your correct username and password. Your school will issue you this login information. NCVPS does not issue usernames and passwords.
NCVPS uses Canvas for its learning management system. Many schools and districts also use Canvas. NCVPS has its own Canvas login web address. Be sure you are logging in to your NCVPS courses at this link: https://ncvps.instructure.com/login/canvas/
If this is your first time logging in, confirm with your e-learning advisor (ELA) that you are enrolled and not waitlisted.
If you were just registered today, it will take 24 hours to get access.
If you had an NCVPS class before in Canvas, and you changed your password, then that is the password that you will need to use.
If you have forgotten your password, use the "Forgot Password" feature on the login page. This will work if you have your correct email address identified in the course settings.
If you still cannot log in, open a ticket with our Virtual Support Center at this link. Be sure to include your name, PowerSchool ID number, school, and course that you're trying to log in to.
PEER TUTORING CENTER
The NCVPS Peer Tutoring Center helps students with all the features of online learning in NCVPS courses.  Whether you need content specific help with a particular concept in your course or you need a little extra motivation and help with time management, the PTC has you covered. Learn more about the NCVPS Peer Tutoring Center.

FAQs