Dear Student and Parent,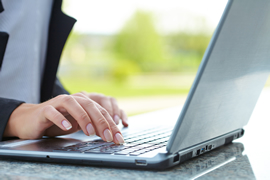 Thank you for joining the North Carolina Virtual Public School (NCVPS), and welcome to the team.  Each year, over 35,000 students across North Carolina take advantage of NCVPS to ensure that students have access to an unprecedented set of choices.  Through online, blended, and mobile courses from NCVPS, students are discovering the "virtual advantage" that will prepare them for college and career. NCVPS faculty and staff will be with you every step of the way.
In just a few short years, NCVPS has grown to become the second-largest virtual school in the country, surpassing a number of schools that have been around longer.  This growth can be attributed to the ever-expanding set of educational options we make available, including:
hard-to-staff subjects like:Arabic, Mandarin Chinese, and German,
over 150 courses, such as Advanced Placement (AP), credit recovery, blended courses for the Occupational Course of Study, and
opportunities for participating middle schools to offer students a chance to gain high school credit
More importantly, NCVPS's growth has been propelled by the spirit of partnership and collaboration with which schools and districts all over North Carolina have received us.  School leaders have embraced NCVPS as a service they can use to meet State Board of Education priorities, providing a 21st century learning environment for 21st century-ready students.
Collaborative learning is core to the NCVPS model, so courses will utilize real-time and asynchronous collaborative tools, audio & video, blogs, cutting-edge assessment tools, and even virtual worlds.  Most importantly, courses will pair you with highly-qualified faculty members from around the world– faculty who, even though they may not live in your zip code, will become a part of the life of your school.  NCVPS offers young people the opportunity to become globally aware (and globally competitive) while remaining firmly rooted in your school community. We at NCVPS feel that our online culture, coupled with the support you'll receive from your local school, helps students gain the "virtual advantage."
Over the coming semester and school year, NCVPS will be a constant partner and presence, from the faculty working directly with you to the Virtual Learning Consultants (VLCs) who support your school. Our Modular Learning Specialists continuously research cutting edge content and the platforms on which we deliver it, while the technical staff keep those platforms accessible and supported, 24/7.
Get to know us!  Explore our site to learn how we've grown and where we're going next. Talk to your school or LEA's e-Learning Advisor (eLA, formerly known as Distance Learning Advisor, or DLA) about how NCVPS courses can help you meet your graduation goals.  Most importantly, let us know how we can continue to improve NCVPS, ensuring that online learning meets your needs and helps you get ready for college and an enjoyable career.
Warmly,
Eliz Colbert
Executive Director
North Carolina Virtual Public School